What challenges do parallel distributors face?
Parallel distributors face many challenges in going about their business, from lack of government measures permitting imports to the banning of imports from new Member States as of 1 May 2004, from provisions for Braille lettering on packages to dual pricing, from supply restrictions to the specific mechanism and Member State regulation.
The most serious of these barriers are the attempts by pharmaceutical manufacturers to limit supplies. This not only frustrates parallel distributors and reduces the savings which could be obtained, it can also lead to shortages and be dangerous for patients.
The main challenge - supply-restrictions
To achieve substantial and recognisable savings parallel distribution relies on access to innovative medicines and the principle of free movement of goods within the single European market.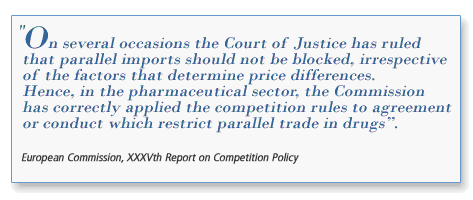 Pharmaceutical manufacturers seek to undermine these conditions, attempting to limit the supplies of medicines in a given market so that the EU is partitioned and medicines cannot circulate freely. In this way they hope to impede or altogether eliminate the sole competition in the market for branded prescription drugs: parallel distribution.
While this might be a logical consequence for the pharmaceutical company to draw, and therefore to protect its market position, this is considered as anti-competitive behaviour and is in breach of EU treaty provisions on the free movement of goods.
The EU treaty states clearly that bending competition rules to "affect trade between Member States" is prohibited.
Unfortunately the European Court of Justice missed a golden opportunity to underscore this principle in 2005. It refused to rule on a referral from the Greek Competition Authority (see EAEPC press statement). This means that there is still very little case law on the application of EU competition rules to supply restrictions.
As such, the EAEPC commissioned a paper which was published in October 2005 analysing competition in the distribution of pharmaceutical products in Europe . The report concludes that EU competition law should fully apply in the pharmaceutical sector to ensure fair competition in the vertical distribution chain for medicines.
Dual pricing- against the rules
Allowing products for sale at one price in one country and attaching a different price for exporting this same product to another EU country would seem to undermine the principles of the EU single market.
But it is precisely this trick which the manufacturers have tried in recent years. In order to exert control over the distribution of products, manufacturers enter into contractual relations with wholesalers at the national level to make sure the latter sell products only domestically and do not permit any exports. This can include provisions for rebates if the product does not leave the domestic territory.
Most people would think that a contract constitutes an agreement. Yet clever lawyers for the manufacturers claim that these are not agreements and so should not be considered as illegal under EU law.
A key decision from the European Commission on 8 May 2001 declared that a dual-pricing system implemented by Glaxo Wellcome in Spain was illegal, as it sought to curb the export of its products from Spain to other EU countries. But the next day in Spain, Pfizer introduced a near identical system. The European Commission has so far been unable to take a decision on this issue. In addition, the EAEPC complained about a new dual pricing (and information) system in Spain which Pfizer implemented with selected wholesalers during the first half of 2005.
Braille lettering - commercial considerations
Medicinal products approved since October 2005 are subject to a new requirement for product names to be printed in Braille on product packs. The measure to introduce Braille for medicinal products serves a just cause and is supported by parallel traders. Indeed some had even been introducing Braille before the legal obligation to do so was in place.
Yet its implementation has unintended consequences for the distribution of products and could be exploited for commercial gain.
Braille introduces particular regulatory challenges but this must not lead to the introduction of technical barriers to the free circulation of goods in the EU single market.
In order to fulfil legal obligations to repack medicines, parallel distributors will be required to incorporate Braille labels. Parallel distributors have quickly developed systems for applying stickers to "delete" the original Braille labels and apply the new Braille label elsewhere on the packaging.
But there have been examples where manufacturers have tried to obstruct this process by placing Braille over the trademark. Given that parallel distributors have to follow trademark protection rules and cannot exchange or easily modify packaging without the consent of the manufacturers, the new Braille requirements risk being abused and becoming an obstacle to trade.
Specific mechanism - a ban on East-West movement
Ten new countries joined the EU on 1 May 2004. Of these, eight countries (Czech Republic, Estonia, Latvia, Lithuania, Hungary, Poland, Slovenia or Slovakia) did not previously have the same level of intellectual property protection as could be found in the EU-15. This was particularly valid for medicines.
As such, the Accession Treaties signed between the EU and each new country introduced a so-called "specific mechanism", effectively suspending the principle of the free movement goods in this sector to prevent parallel trade in pharmaceutical products that lack equivalent IP right protection.
The mechanism also introduced the requirement that parallel distributors have to provide confirmation to the competent authority that they have informed the patent holder one month in advance of a notification for a parallel distribution.
But the specific mechanism is based on a false assumption - that innovative medicines sold in the new Member States are cheaper than in the old EU-15. In reality, this is not always the case. For example, Tamiflu used to be 70 per cent more expensive in Poland than in Greece, while Greek GDP per capita is almost double that of Poland`s. Parallel distribution will eventually force prices downward to the benefit of new member states and consumers.
In addition to being based on a false premise, this mechanism was supposed to be temporary. But in the way in which it is drafted, it is anything but transitional. It will not cease after a certain time, like other such derogations from core EU principles, such as the free movement of people. It is a quasi-permanent block on the free movement of goods from East to West, until the patents for the concerned products have expired.
Despite this and the lack of legal guidance from the European Commission, some distributors have attempted to apply for licenses to import. In order to do this the manufacturer must give its consent.
But there are many examples where manufacturers have abused this provision by deliberately withholding patent information. In some cases, distributors have not even been able to find out who the patent holder is. In cases where the patent holder and the holder of the marketing authorisation are not identical, the latter should provide distributors with the relevant information. In practice, however, the refusal by some companies to provide information regarding specific patents leaves parallel distributors in the dark as to whether or not they are entitled to import certain products.
Member State regulations - should allow imports
Theoretically, ever since the EU was created, there has been provision for the free movement of goods across the EU. This has meant that Member States must introduce provisions to allow products coming from other Member States to be treated the same as domestically sourced products. This is exactly the same in the case of medicines.
But parallel distributors have for a long time struggled against various measures, or lack of measures, in EU countries, that impeded the parallel importation of medicines. Fortunately, legislative barriers to parallel distribution have mostly disappeared today.
The European Commission set out the legal framework for the free movement of pharmaceutical products as early as 1965. It has also clarified this legislation on two occasions, in 1982 and 2004. Each time it has clearly said that Member States should have provisions which allow and do not impede in any way parallel imports.
Indeed, the Commission has taken action against several Member States, often at the behest of parallel distributors.
For example, Belgium had to change a regulation which stated that the parallel importing authorisation would be automatically withdrawn when the marketing authorisation for a similar medicine on the Belgian market was rescinded.
Austria was admonished for rules on reimbursement which dictated that parallel imports should only be reimbursed if they were at least 10% cheaper than those medicines imported directly or manufactured in Austria.
Of course, Commission action in this area is not limited to parallel trade in medicines. In October 2005 the Commission announced action against several Member States concerning the lack of regulations permitting the importing of pesticides.